If you are one of the lucky brides with a venue that allows candles...first of all, know where the fire extinguisher is! Sorry about my safety-mindedness, I'm just that way. Secondly, there are so many AWESOME ideas out there to help make your decorations extra creepy, or extra elegant - whichever you prefer! (Click on photos for source links!)
As much as your little anti-traditional-bride heart may be opposed to the crafting, homemaking, baking, decorating (I'm sure there is more, but I'll stop here) Queen of all things creative, you need to head on over to Martha Stewart Halloween. Trust me.




If you'd like to opt out of the DIY version of the blood drip candle, you can buy white tapers that drip red when lit (how cool is that).



Dark Candles



With scents like Absinth, Arachne's Garden, Dracula, Graveyard, and Nosferatu, any Hallow-bride should be dying to visit to the Dark Candles website for some goth candles and centerpieces. Check it out.




This may just be one of my favorite ideas of all time...and so simple! Check out this idea from Hostess with the Mostess




Also from Hostess




Mummies! My thoughts on mummies: it would be a little challenging to use as a theme in a Hallowedding, but these are so COOL! And wait, it gets better! Check out Cathie Filian's Blog for the DIY.




Another genius idea from Cathie Filian



Craft Stew
Skull & Bones


These are great, but I can't seem to find the link to purchase. Hopefully, they are not gone forever!!!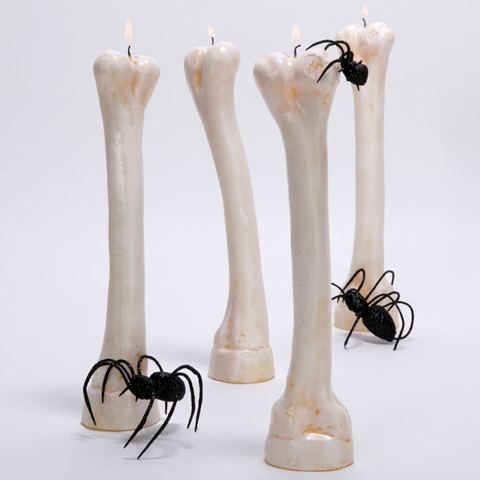 From Gothic Martha Stewart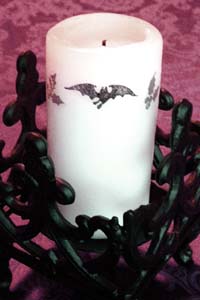 I just love candelabras and chandeliers.




Clockwise from top left:
1. Gothic
2. Tree
3. Swirls
4. Stampington & Company
5. Skulls
6. Impulse Enterprises
7. Orange Tapers
8. Glitter




Clockwise from top left:

1. Windy City Novelties
2. Martha
3. Pottery Barn
4. Enchanted Decor