Some great pumpkin carvings for weddings (click on photo for source link)

Martha Stewart



Glitter Pumpkin



Raven Under Vase



Painted Pumpkin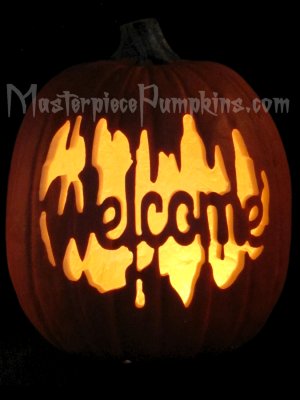 Pattern
These pumpkins are from my wedding.


This one has a witch carved in the back so that the shadow of the witch falls on the wall behind it.
Some non-carved pumpkin ideas




Damask Decoupage Pumpkins from Bugaboo, Mini, Mr. & Me.




Decoupage
This one could definitely be done with a creepy pattern, like a spider web or raven.



D-I-Y Fake pumpkins
I kidnapped a half a dozen wedding guests to carve pumpkins

two days

before my wedding to avoid having rotting pumpkins lining the sidewalk. It took them all day. Needless to say...I owe them for their hard work! If you would like to avoid this situation (which I highly recommend) head on over to Euclidboo and give this a try.