For all the Poe lovers out there (including myself) here is some great inspiration for a Poe themed party or wedding. (Click on the picture for source link).

This invitation is F-A-B-U-L-O-U-S! Head on over to
love&lace
to check out the details.

Here is another just-as-worthy raven invite found at Kindly Spoken. You can check out the
Etsy Shop
for lots of other great finds, too.

Here are some links to Photoshop brush packs and images that might help recreate these awesome invites.




This idea could be used as an invitation or a program, but it would be very time consuming. There are a few examples of using a 'book' type format for wedding invitations, including this one below from
Elizabeth Anne Designs
.


If you could incorporate some vintage Poe book covers, or an excerpt from one of Poe's poems in the invite/program/book...well, that would just be neat-o.


(Found
here).


USPS stamps to go with your fab-invites.




Favors

Raven Candy Wrappers for favors from the fabulous Carrie Mae over at
Creepy Cupcakes blog
. Be sure to check out some of her other ideas, if you haven't yet. She is quite amazing.

You can download them
here
.

I'm sure there are some cheap short books with Poe's stories, and, not only would that encourage reading (hint, hint), it would also be a great and unique favor!

How about incorporating these with your table numbers! Just love this vintage looking style.




Venues

The garden at the Edgar Allan Poe Museum in Richmond, VA would be a perfect setting for a Poe wedding.

Or, if you are daring enough, there is always the cemetery...



Decorations

Not sure how well throw pillows would work at most wedding venues, but I'm sure this idea could transfer into a great DIY project. Maybe a wall with Poe quotes that people could sign or something. Either way, here you go.




Raven Wood Plaque by Valeriote Design

This Etsy seller has all kinds of Halloween spunk. Check out her shop.



Creepy welcome/photo frame.




For the gift or card table, this would be perfect. We had a white birdcage altered with a 'card slot' that had a creepy raven (fake, of course) perched on top with a sign that said "Drop your cards if you dare." Unfortunately, we have no pics! Bummer.


(Found here).



Raven Pumpkin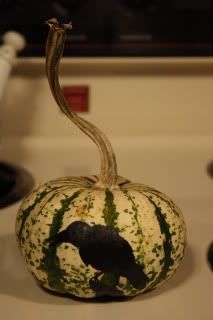 Guest Note Box or Guestbook Table Decoration




Tell Tale Heart Choker




If anyone out there has had a Poe inspired wedding, I would love to see the pics! I tried to incorporate more of this style into my wedding, but it got vetoed by the hubby.