After the invites, I figured things would get easier. I was a little wrong. My husband and I started working together to come up with centerpieces/table numbers. My mother-in-law found
these
at Michael's which tied in with the chandelier/candelabra theme beautifully. My husband wanted creative input into the table number/centerpiece. We ended up with these.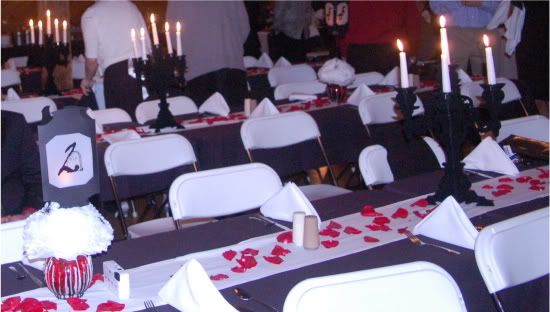 The base is a globe vase (from Michael's) with black and white wax melted over the bottom while upside down and filled with red water. Husband wanted dripping black and white something or other. Since his cake idea was vetoed, he decided on this. The white pom is from Martha with little plastic spiders glued on it, and the lantern pattern is also from Martha only I used my own graphics for the table numbers, and white vellum (easier to find and I wanted to steer clear of orange!).
Templates for the lanterns from Martha are here and here. My graphics for the vellum are all here.